Improve your sailing the Fast way
While you play!
All Multiplayer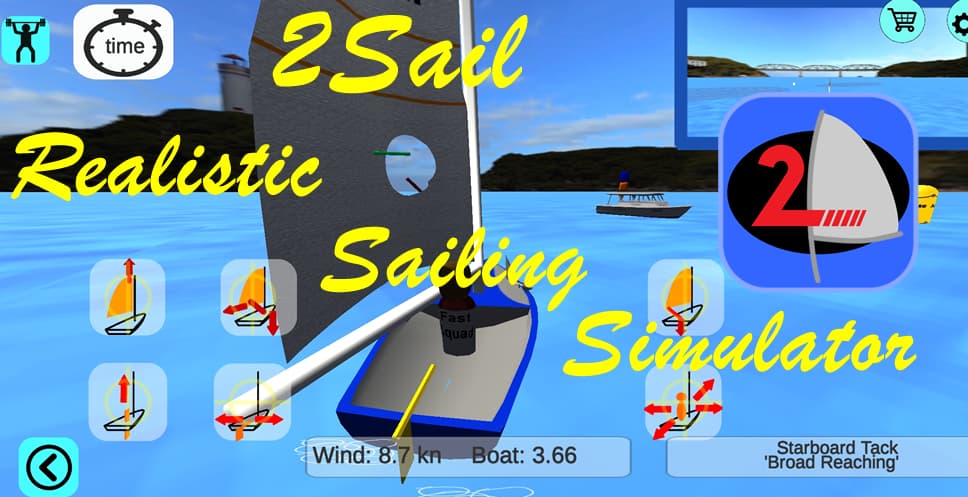 Master your sailing ... fast!
Sailing Simulator Game
Build knowledge quickly - same response & visual clues as a real boat
Go faster, practise in various wind strengths / conditions
Get to the front of the fleet faster - Compress years of sailing into just hours
Go sailing anytime
learn to instantly pick:
"changing gears" boat setup for different conditions
"Playing this game has taught me how to use telltales and my sailing has dramatically improved since" Alistair
What you get to play with ** ...
Boat Controls: Steering, Sailor Balance, Sailor Trim

Boat Controls: Centreboard, Halyard

Sail Controls: Mainsheet (auto available), Vang

Controls change: Speed, Heeling, Height (upwind angle), Stability

Effects and Targets change in different wind strenghts

Gusts, Telltales, Windshifts

Variety of wind strengths: 3 to 30 knots

Tide & current: fully adjustable in strength and direction
Master the current: prestart, at start line, upwind, downwind & mark roundings
** Some Restrictions in free version
"How to go faster and Point higher upwind while avoiding capsizes downwind, I wondered how the other boats did that!" Steve
Australian Sailing Simulator ...
Developed in Australia, to help you sail faster.
Sailing has to be one of the most enjoyable lifelong sports that you can play.
*Android, Google trademark, now available in Google Play Store (Game requires device with fast processor).
* Apple, trademark, now available in Apple App store